Skip to content
You have no items in your cart
Better water makes better beverages.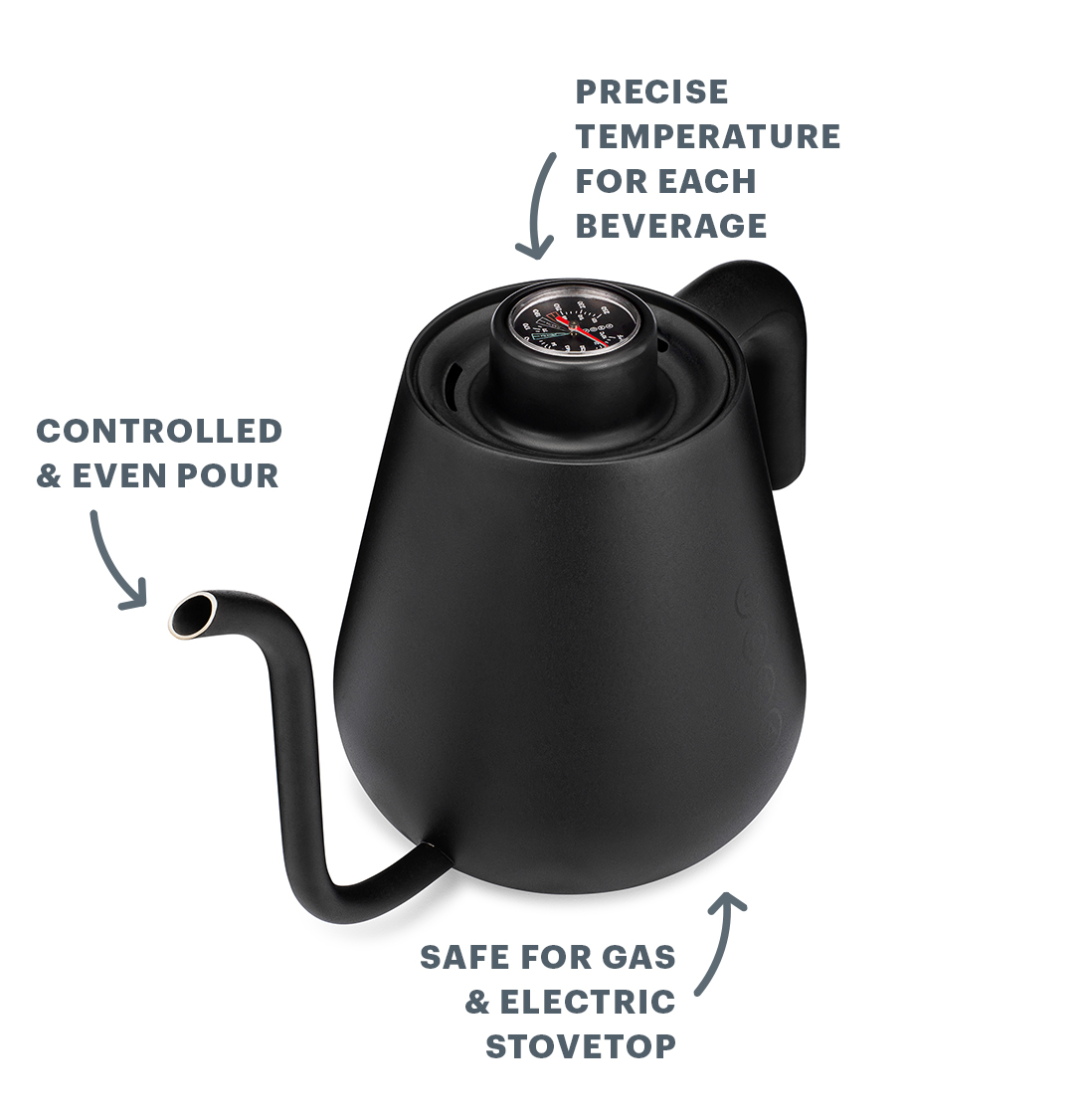 Shape of Water
The gooseneck shape of our new kettle is optimal for pouring—slowing the flow and keeping things steady, so that you don't saturate your coffee grounds or tea leaves too quickly or dilute your beverage. A controlled pour means that your grounds and leaves will be evenly expressed and taste exactly as they should.
Enough to Share
The one liter capacity of the kettle means you can easily brew four cups of coffee or tea, so you can sit down with others for a meeting, a break, or just a good catch up
Not Too Hot
Scorching your coffee or tea leaves can yield bitter results. The brew-range thermometer lets you choose the correct temperature for your coffee and tea, taking your drinking experience to new heights.
You break it? We replace it.
Drinking from glass isn't just enjoyable, it's responsible. Because glass can be recycled forever, you are helping to eliminate the single-use plastic that is wreaking havoc on our oceans.
View More
Reviews
Customer Reviews
Write a Review
Ask a Question
Filter Reviews:
kettle
gift
coffee
temperature
range
insight
tea drinker
things
Persian
daughter-in-law
01/12/2022
Christine

United States
Best combo with my brew bottle
Love this to use with my brew bottle for my coffee in the am
01/12/2022
Kelly Z.

United States
Perfect pour over kettle for anyone
I really enjoy this kettle, I am careful what I showcase in my kitchen but this kettle fits aesthetically into my home. Not only that the kettle never gets too hot so I can safely pour it into my tea without reaching for my pot holders. Bonus it tracks the temp for the inner coffee geek inside me.
01/11/2022
Lauren

United States
When form meets function
Great overall experience. I have the Soma pitcher, water bottle, and ceramic mug. Just received the kettle as a gift. It's wonderful. One of my pet peeves is nice looking things that were designed only to look good, with functionality as an afterthought -- or perhaps not considered at all. This kettle is great looking and works wonders too. It heats the water quickly, but the outside of the kettle doesn't seem to get dangerously hot, the handle maintains a comfortable temperature, and it pours like a dream. I'd mentioned a week ago that I was looking for a kettle that would allow me to calibrate water temp for different beverages (I love green and black tea as well as coffee), so this was really the perfect gift. I love it! Well done (again).
01/07/2022
Chinwe O.

United States
Great design, doesn't whistle
I didn't know tea needed to be set at a certain temperature, so I am thankful for this insight. I do wish it whistled so I know when it's hot…however, on the upside I drink green tee and the kettle gets hot pretty quickly within the range of the temperature required to brew tea.
12/31/2021
Anonymous

United States
She loves it
It was a gift for my Persian daughter-in-law. A loyal tea drinker. She loves this kettle